About
Linda Buckley is a composer from the Old Head of Kinsale, currently based in Dublin.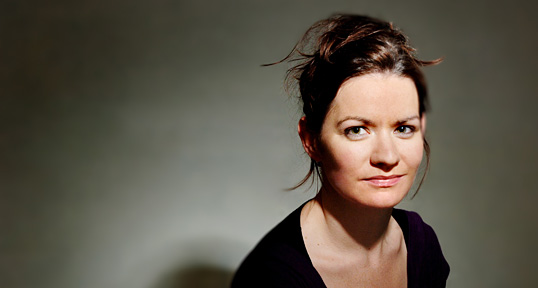 Her music has been described as "strange and beautiful" (Boston Globe, July 2004), a "fascinating interaction between live sound and electronics" (Irish Times, Nov 2006), with "an exciting body of work that marks her out as a leading figure in the younger generation of Irish composers working in the medium" (Journal of Music, Sept 2008).
Her work has been performed by the BBC Symphony Orchestra, Dresden Sinfoniker Orchestra, Crash Ensemble, Fidelio Trio, Orkest de Ereprijs, Janus Trio, Rothko Trio, University of York Javanese Gamelan, and featured at international festivals including the Bang on a Can Summer Institute of Music at MassMoCA, Gaudeamus Music Week Amsterdam and Seoul International Computer Music Festival.
Linda is a member of the Spatial Music Collective, dedicated to the creation and presentation of spatial acoustic and electroacoustic music.
She studied Music at University College Cork, and Music and Media Technologies at Trinity College Dublin. She holds a Ph.D in Composition from Trinity College, where she also lectures.
Past events
August 2014

Iceland Residency

Residency at Gullkistan, Iceland, composing new song cycle for singer Iarla O' Lionáird with string quartet and electronics, based on text from Gaelic love poetry

July 2014

Hebrides Ensemble perform string trio Fiol

Renowned Scottish new music ensemble Hebrides perform Fiol for string trio, inspired by the haunting droning harmonies of the hardanger fiddle, Glasgow Royal Concert Hall

July 2014

New work for UCC Great Book of Ireland

Premiere of new work composed in response to the Great Book of Ireland, Glucksman Gallery Cork

July 2014

Kate Ellis performs Jump, Soundscape Festival Italy

Jump for cello and electronics features at Soundscape, Maccagna Italy

June 2014

Trio Scordatura CMC Salon series concert

Amsterdam-based microtonal ensemble Trio Scordatura perform Their sound is gone out and Dubh, Contemporary Music Centre salon series, National Concert Hall Dublin

June 2014

Electronic set for Louth Contemporary Music Society

Set of new electronic/ambient music with Irene Buckley, Dundalk Gaol, summer solstice, Louth Contemporary Music Society

May 2014

Premiere of new work Serein for British pianist Matthew Schellhorn

Serein composed for Matthew Schellhorn, performed in Kevin Barry Room, National Concert Hall Dublin

May 2014

Speranza for Choir performed at St. Marks Cathedral Venice

New choral work composed with students of Borris Vocational Secondary School Co. Carlow, in conjunction with Visual art gallery Carlow in response to the Janet Cardiff sound installation the Forty Part Motet based on Tallis' Spem in Alium, and Music Generation Carlow

April 2014

Living in a Coded Land shows at Irish Film Centre

Music featured in Pat Collins' new film Living in a Coded Land, Irish Film Centre

April 2014

Michelle O' Rourke performs Q, Cork School of Music

Mezzo soprano Michelle O' Rourke sings Q for voice and electronics, as part of the Irish Canon concert series (Association of Irish Composers with Cork Orchestral Society).