About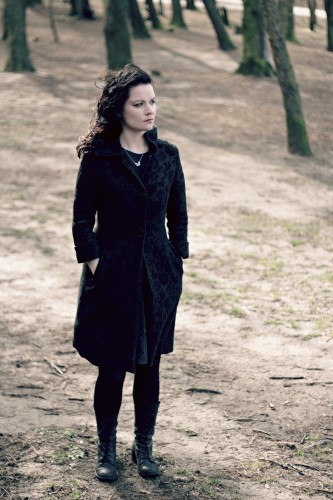 Linda Buckley is an Irish composer/performer based in Glasgow who has written extensively for orchestra (RTE National Symphony Orchestra, BBC Symphony Orchestra), and has a particular interest in merging her classical training with the worlds of post punk, folk and ambient electronica. Her work has been described as "fantastically brutal, reminiscent of the glitch music of acts such as Autechre" (Liam Cagney, Composing the Island) and "engaging with an area of experience that new music is generally shy of, which, simplified and reduced to a single word, I'd call ecstasy" (Bob Gilmore, Journal of Music). Music for theatre includes work by Enda Walsh (Bedbound) and film by Pat Collins (Living in a Coded Land) and Tadhg O'Sullivan (Solas Céad Bliain). Awards include a Fulbright scholarship to New York University and the Frankfurt Visual Music Award 2011 (Silk Chroma). Recent and upcoming collaborations include work with Mmoths, arrangements from This Mortal Coil, remixes for Augustus and John, new music with Laura Sheeran (Kuvn), as well as performances by Icebreaker, Iarla O'Lionaird, Joby Burgess, Ensemble Mise-En and Crash Ensemble. Linda also lectures in Composition at the Royal Conservatoire of Scotland.
Past events
March 2018

Fridur at the Centre Culturel Irlandais, Paris

Internationally acclaimed pianist Isabelle O'Connell presents a solo concert of recent works for piano and electronics, featuring Irish composers Linda Buckley and Donnacha Dennehy. This powerful programme will explore the possibilities of sound between live performer and synthesized sounds – from the manipulated piano overtones in Donnacha Dennehy's Stainless Staining and the Icelandic-inspired Fridur by Linda Buckley. Hailed by the New Yorker as the "Irish piano phenom" Isabelle brings her combination of technical artistry and kinetic flair to the CCI.

March 2018

Live electronic improv set at Vortex London, for Culture Ireland Britain 2018

Alternative Patrick's Day shows, Vortex Club London

March 2018

Fridur for piano and electronics performed by Isabelle O'Connell

Finding a Voice at South Tipperary Arts Centre – Kate Ellis (cello), artistic director of Ireland's leading new music group Crash Ensemble, "an instinctive and technically brilliant musician" (The Irish Examiner) and Isabelle O'Connell (piano), "[one] of the finest, busiest pianists active in New York's contemporary-classical scene" (The New York Times) finish our series of concerts with a bang in an exciting programme of new music by Irish and American composers including Linda Buckley, Anna Murray, Joan Tower and Bang on a Can's Julia Wolfe.

March 2018

Icebreaker perform Azure, System Restart, Audiograft Oxford

Azure performed as part of the System Restart programme of new music by female composers, Icebreaker ensemble.

March 2018

The Hildegard Project as part of New Music Dublin

A retelling of music's 12th-century abbess, Hildegard von Bingen, by Fiona Kelleher, Irene Buckley and Linda Buckley. Join the Irish record label Ergodos on a unique musical walking trail through the city. On a winding route through the city's back streets and laneways, you'll discover music from a fascinating range of musicians and composers.

February 2018

Jump for cello and electronics performed by William Butt, Hugh Lane Gallery Dublin

Cellist William Butt will perform at the Hugh Lane Gallery as part of Spike Cello Fest 2018. Looking at the cello from a contemporary angle, Butt will perform modern works for solo cello and electronics by composers such as: Roger Smalley, Linda Buckley.

February 2018

Kyrie for 8-channel tape presented for Spatial Music Collective, Derry

The Spatial Music Collective, featuring Prof. Leigh Landy

This concert will feature a range of works for a circular (surround sound) array of loudspeakers by the Spatial Music Collective, a group of like–minded composers based in Ireland, the UK and US who have been presenting concerts in this format since 2006. It will feature new electronic and sample–based music by various members of the collective, including a new and specially–commissioned work by composer Leigh Landy, On the Éire, who is Professor of Contemporary Music at De Montfort University.

January 2018

Exploding Stars performed by Darragh Morgan at Union Chapel London

Darragh Morgan performs Exploding Stars for violin and electronics at Union Chapel London for Daylight Music, along with music by Donnacha Dennehy and Howard Skempton.

January 2018

Kirkos Ensemble perform Fiol for string trio, Powerscourt Theatre Dublin

Fiol performed in a programme of new music for string trio, Kirkoskammer

November 2017

New Spatial Work for Sounding Out the Space

During the Sounding Out the Space Conference the Spatial Music Collective will present two concerts of spatial music involving both live and electronic music in St. Laurence's Church.