Upcoming
December 2019

Show with Maria Somerville, Projects Arts Centre Dublin

Performing a live electronic/vocal improv set opening for Maria Somerville, Project Dublin.

December 2019

Score contributions for To The Moon, film by Tadhg O'Sullivan

Music featured in new feature film directed by Tadhg O'Sullivan, a cinematic ode to the moon.

February 2020

Curating concert for Beethoven Reflected, Triskel and Hugh Lane

Curation of concert programme featuring newly commissioned work by Linda Buckley and Irene Buckley, as well as music by Julia Wolfe – connected to Beethoven's String Quartet Op.131 performed by Contempo Quartet, Triskel Arts Centre Cork and Hugh Lane Gallery Dublin.
About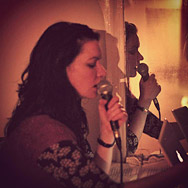 Linda Buckley is an Irish composer currently based in Glasgow, who writes for both electronic and acoustic forces. The diverse instrumentations of her work include Javanese Gamelan, choir, multi-channel tape, prepared piano and orchestra. Read more »
Also
Listen to pieces and excerpts on the music page, view works and past performances, or get in touch, either here or alternatively on Twitter or SoundCloud.