Upcoming
March 2017

Presentation at West Chester University, Pennsylvania

Talk on my music at Music Department of West Chester University

April 2017

Premiere of new work for piano, St. Paul, Minnesota

New work based on theme 'Connecting Flights' composed for pianist Matthew McCright, Studio Z, St. Paul

May 2017

Premiere of new work for Organ and laptops, Wesleyan University

The Toneburst Laptop and Electronic Arts Ensemble teams up with Artist in Residence and University Organist Ronald Ebrecht to present a series of works involving live-electronics and the Wesleyan Memorial Chapel organ. The concert will feature world premieres by Linda Buckley, Visiting Scholar in Music Terri Hron, and Jeff Snyder.

August 2017

Show with David Power, uilleann pipes, Kilkenny Arts Festival

New collaborative show with uilleann piper David Power and electronics, based on theme of Shackelton crossing the Antarctic.
About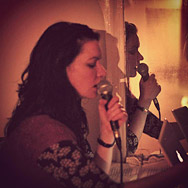 Linda Buckley is an Irish composer currently based in New York, who writes for both electronic and acoustic forces. The diverse instrumentations of her work include Javanese Gamelan, choir, multi-channel tape, prepared piano and orchestra. Read more »
Also
Listen to pieces and excerpts on the music page, view works and past performances, or get in touch, either here or alternatively on Twitter or SoundCloud.