Upcoming
January 2018

Exploding Stars performed by Darragh Morgan at Union Chapel London

Darragh Morgan performs Exploding Stars for violin and electronics at Union Chapel London for Daylight Music, along with music by Donnacha Dennehy and Howard Skempton.

March 2018

Icebreaker perform Azure, System Restart, Audiograft Oxford

Azure performed as part of the System Restart programme of new music by female composers, Icebreaker ensemble.

March 2018

Live electronic improv set at Vortex London, for Culture Ireland Britain 2018

Alternative Patrick's Day shows, Vortex Club London

May 2018

Barbican commission for Powerplant, London

New commission for Powerplant at the Barbican. 'Combining visuals, bold new approaches to composition and the sonic virtuosity of Joby Burgess's Xylosynth, Powerplant create an electronically-enhanced fusion of arts that speaks right here and right now.'

May 2018

Improv voice/electronic set with poet Doireann Ni Ghriofa

Collaboration and live performance/reading with poet Doireann Ni Ghriofa, Poetry Ireland, Dublin

June 2018

New work with Liz Roche Dance Company – One Here Now : The Brian O'Doherty / Patrick Ireland Project

Collaboration with Liz Roche Dance Company, Pilgrimage  – installation and performance at Sirius Arts Centre Cobh, and I/Thou – major new contemporary dance work at Cork Opera House.
About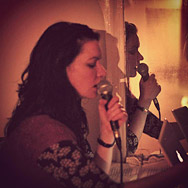 Linda Buckley is an Irish composer currently based in New York, who writes for both electronic and acoustic forces. The diverse instrumentations of her work include Javanese Gamelan, choir, multi-channel tape, prepared piano and orchestra. Read more »
Also
Listen to pieces and excerpts on the music page, view works and past performances, or get in touch, either here or alternatively on Twitter or SoundCloud.