Upcoming
September 2015

Passages – Sounds from a Safe Harbour

New collaboration with Irene Buckley and video artist Ailbhe Ní Bhriain – immersive audio-visual installation at the Bonded Warehouse, Cork.

October 2015

Concorde at the Hugh Lane Gallery

New work for Concorde ensemble performed at the Hugh Lane Gallery Sundays at Noon series.
About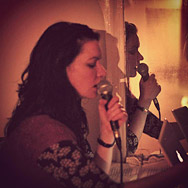 Linda Buckley is a composer currently based in Dublin, who writes for both electronic and acoustic forces. The diverse instrumentations of her work include Javanese Gamelan, choir, multi-channel tape, prepared piano and orchestra. Read more »
Also
Listen to pieces and excerpts on the music page, view works and past performances, or get in touch, either here or alternatively on Twitter or SoundCloud.