Upcoming
July 2016

Fiol performed at West Cork Chamber Music Festival

Fiol for string trio performed by Mairéad Hickey, György Kovalev and Ella van Poucke, St. Brendan's Hall, Bantry.

July 2016

Passages Installation, Clonmel Junction Festival

Passages installation co-composed with Irene Buckley in collaboration with artist Ailbhe Ni Bhriain, runs for a week as part of Clonmel Junction Festival.

July 2016

Changeling at Clonmel Junction Festival

Changeling

is a dark, immersive piece exploring themes of the supernatural, the feminine and the occult using music, visuals, dance and spoken word.

July 2016

Summer/Autumn 2016 Tour with Crash Ensemble, Iarla O Lionaird and Adrian Crowley

National tour with Iarla O Lionaird performing O Iochtar Mara song-cycle with Crash Ensemble string quartet, and Adrian Crowley performing The Dead Hotel.

September 2016

Crash Ensemble perform Fiol, Composing the Island Festival

String trio Fiol performed as part of Crash Ensemble new music marathon, National Concert Hall Dublin.
About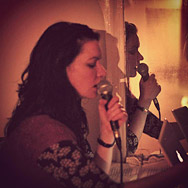 Linda Buckley is a composer currently based in Dublin, who writes for both electronic and acoustic forces. The diverse instrumentations of her work include Javanese Gamelan, choir, multi-channel tape, prepared piano and orchestra. Read more »
Also
Listen to pieces and excerpts on the music page, view works and past performances, or get in touch, either here or alternatively on Twitter or SoundCloud.