Upcoming
February 2016

Exploding Stars performed at Nonclassical London

Darragh Morgan performs Exploding Stars for violin and electronics, Nonclassical London

February 2016

Premiere of new percussion work by Joby Burgess, Lancaster

London based percussionist Joby Burgess premieres new commission for Percussion and electronics, Lancaster University – Pioneers of Percussion

March 2016

Performance of Fridur for The World According to Bob, Cafe Oto London

Fridur for piano and electronics performed by Andrew Zolinsky, as part of a two-day celebration of the life and work of Bob Gilmore.

April 2016

A Reflection on Light concert and exhibition, Trinity College Dublin

Live performance to film A Reflection on Light, collaboration with Grace Weir, Department of Physics, Trinity College Dublin

May 2016

Civitella Ranieri Fellowship, Umbria Italy

Fellowship at Civitella Ranieri, 15th century castle in Umbria, Italy

July 2016

Fiol performed at West Cork Chamber Music Festival

Fiol for string trio performed by Mairéad Hickey, György Kovalev and Ella van Poucke, St. Brendan's Hall, Bantry.

July 2016

Summer/Autumn 2016 Tour with Crash Ensemble, Iarla O Lionaird and Adrian Crowley

National tour with Iarla O Lionaird performing O Iochtar Mara song-cycle with Crash Ensemble string quartet, and Adrian Crowley performing The Dead Hotel.
About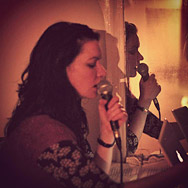 Linda Buckley is a composer currently based in Dublin, who writes for both electronic and acoustic forces. The diverse instrumentations of her work include Javanese Gamelan, choir, multi-channel tape, prepared piano and orchestra. Read more »
Also
Listen to pieces and excerpts on the music page, view works and past performances, or get in touch, either here or alternatively on Twitter or SoundCloud.