Upcoming
September 2016

Release of Changeling original score

New record of electronic music written for Changeling dance show.

September 2016

I Have Five Things to Say performed at Hugh Lane Gallery

Lina Andonovska, flute
Kate Ellis, cello
Michelle O'Rourke, voice
Michael Joyce, piano

perform I Have Five Things to Say song cycle based on Rumi poetry, Hugh Lane Gallery Dublin, Sundays at Noon series.

September 2016

Isabelle O'Connor performs Fridur for Piano and electronics, Composing the Island festival, NCH

Irish pianist Isabelle O'Connell will perform a recital of works by contemporary female composers on September 21st at 6.30pm at the National Concert Hall. This recital will form part of 'Composing the Island: A century of music in Ireland 1916-2016' which takes place between the 7th and 25th of September 2016.

September 2016

Crash Ensemble perform Fiol, Composing the Island Festival

String trio Fiol performed as part of Crash Ensemble new music marathon, National Concert Hall Dublin.

October 2016

Awarded Fulbright Scholarship for 2016/17

Fulbright scholarship to spend a year in New York for Composition and Research, afilliated with New York University.

January 2017

New work for RTE Contempo String Quartet, tour of Ireland

New commission for Contempo string quartet with electronics, for performance with the Bartok string quartets, Irish tour.

February 2017

Icebreaker tour Azure, U.K 2017

Icebreaker ensemble perform Azure as part of an all-female programme including work by Kate Moore and Anna Meredith, tour of U.K.
About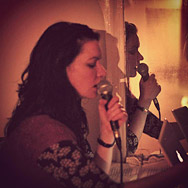 Linda Buckley is a composer currently based in Dublin, who writes for both electronic and acoustic forces. The diverse instrumentations of her work include Javanese Gamelan, choir, multi-channel tape, prepared piano and orchestra. Read more »
Also
Listen to pieces and excerpts on the music page, view works and past performances, or get in touch, either here or alternatively on Twitter or SoundCloud.