Upcoming
September 2019

Score for Henry Glassie: Field Work – Pat Collins film at Toronto Film Festival

Scored new Pat Collins film based on American folklorist Henry Glassie, premiering at the Toronto International Film Festival.

October 2019

Premiere of commission from Red Note Ensemble with Any Enemy, Sound Festival Aberdeen

New work for Red Note Ensemble and Any Enemy, Sound Aberdeen.

November 2019

Duo van Vliet perform Oscillate, Royal Holloway London

Oscillate for viola, accordion and electronics, along with music by Dowland, Britten and Polish composers, Department of Music.

November 2019

New work for Caimin Gilmore, Double bass & electronics, Quiet Lights Cork

Premiere for new work for bass and electronics as part of Quiet Lights Festival, Cork.

December 2019

Joby Burgess performs Discordia, RNCM Manchester

Performance of Discordia for aluminium harp and electronics, with DJ set, for Credo in USA – Original Voices

December 2019

Score contributions for To The Moon, film by Tadhg O'Sullivan

Music featured in new feature film directed by Tadhg O'Sullivan, a cinematic ode to the moon.
About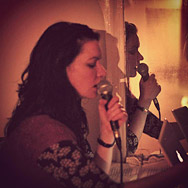 Linda Buckley is an Irish composer currently based in Glasgow, who writes for both electronic and acoustic forces. The diverse instrumentations of her work include Javanese Gamelan, choir, multi-channel tape, prepared piano and orchestra. Read more »
Also
Listen to pieces and excerpts on the music page, view works and past performances, or get in touch, either here or alternatively on Twitter or SoundCloud.