Film Scores
Scores composed for the following film projects:
Nothing Compares by Kathryn Ferguson (co-composed with Irene Buckley)
That They May Face the Rising Sun (co-composed with Irene Buckley)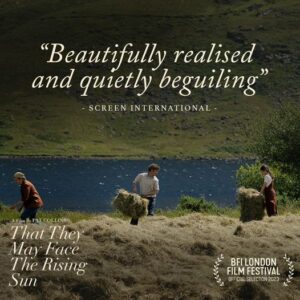 To the Moon by Tadhg O'Sullivan
Exploding Stars by Tadhg O'Sullivan
A Ghost in the Throat by Doireann Ní Ghríofa and Tadhg O'Sullivan
Like a Huge Scotland by Mark Cousins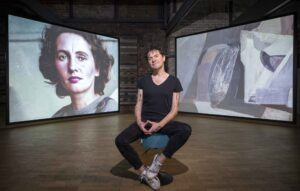 The Sea by Pat Collins
"I didn't want this film to have any sense of exile from the world, or any sense of anxiety. I wanted it to feel as if the world was taking long deep breaths and we were breathing with it."
Henry Glassie: Field Work by Pat Collins
Inspired by the writings and ideas of American Folklorist Henry Glassie – 'Field Work' is an immersive and meditative documentary set among the rituals and rhythms of working artists across Brazil, Turkey, North Carolina and Ireland.
Dun Chaoin Produced/Directed by Lanka Haouche Perren
Non-narrative documentary exploring the work & methods of the renowned Irish artist Maria Simonds-Gooding who has been based in Dún Chaoin, Co. Kerry, Ireland, for the last 40 years. It features a poem by award winning poet & writer David McLoghlin, narrated by Dominic West.
The Wake – Dance Film written and directed by Oonagh Kearney
Using dance as a unique cinematic language this film explores women's stories inside the house. Therein lies a world of memory, joy, violence and transformation.
The Human Flock by Clare Langan (co-composed with Irene Buckley)
We are living at a critical moment in time, with major political, economic and ecological shifts and crisis, and The Human Flock shines a light on the fragility of humankind and the planet. The film sees a group of people navigate their way through an abyss of black water and fog. Somewhere between this world and elsewhere this emotive work looks at isolation and alienation of the individual, conflict and strife, and the need for connection and unity. The film equally suggests some form of underworld while having deep resonances with our contemporary lives.
https://www.clarelangan.com/portfolio/the-human-flock
The Rewilding by Clare Langan
https://www.clarelangan.com/portfolio/the-rewilding
M.R. by Jyll Bradley
Drowning Pool by Joan Perlman
Drowning Pool is a visual art project by artist Joan Perlman inspired and evoked by the site in Thingvellir in Iceland where women were once executed by drowning. It is "a work about healing and retribution, comprised of layered video and long durational sequences that convey the liminal presence at the confluence of past and present, blending dark history and momentary beauty. Irish composer Linda Buckley created the hauntingly resonant soundtrack, using voice and experimental media."
Nosferatu extract – Live score composed by Irene & Linda Buckley
"It was an experience like nothing else, a cinematic and musical experience bound together as one, like Nosferatu and the victim. The organ lowered its fangs into its audience. It was a symphony of horror."
Metropolis Live Score co-composed with Irene Buckley
I/Thou with Liz Roche Company
I/Thou is a mesmerising dance piece that responds to the work of iconic visual artist Brian O'Doherty, also known as Patrick Ireland. Inspired by O'Doherty's mix of perfection and playfulness, this work echoes the themes of migration, language and identity that are ever present in his work. Featuring a specially commissioned score, I/Thou brings together world-class performers and creative collaborators including composer Linda Buckley, set and costume designer Joe Vanek and lighting designer Stephen Dodd.
A Relection on Light by Grace Weir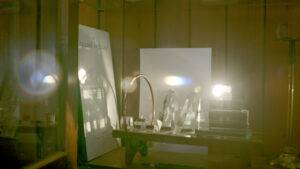 http://www.graceweir.com/AReflectionOnLight.html
The Left Unsaid – Filmpoem by Doireann Ní Ghríofa